Behind The Brand
We wanted to build a highly visual brand around the iconic Bach name, a coastal scene which reflected everything we love about New Zealand, the stunning coastline we live near, and the activities and socialising we do on weekends and holidays. 
From Kids Book Purchase To Perfect Partnership
Craig bought a Kiwi-ana version of Wheels on the Bus for his then 2yo son, and whilst reading it to him, he had an epiphany that a similar illustration style would look great on our Bach labels.
He did a google search to find and introduce himself to award winning and supremely talented author and artist Donovan Bixley, and so began our creative relationship for the Bach brand.
Donovan led a detailed development process which started with a myriad of pencil drawings and designs, then onto watercolour, before moving to the final graphic design. This is our process for every Bach label and other artwork.
Our Inspiration
Donovan has a wealth of personal experiences growing up and living around coastal NZ, and coupled with his artistic talent and our collaborative approach to design, we both draw from our deep personal wells, and many of the people we interact with and observe.
Some ideas sprout organically and others a labour of love to tight deadlines - because the beer is already brewing!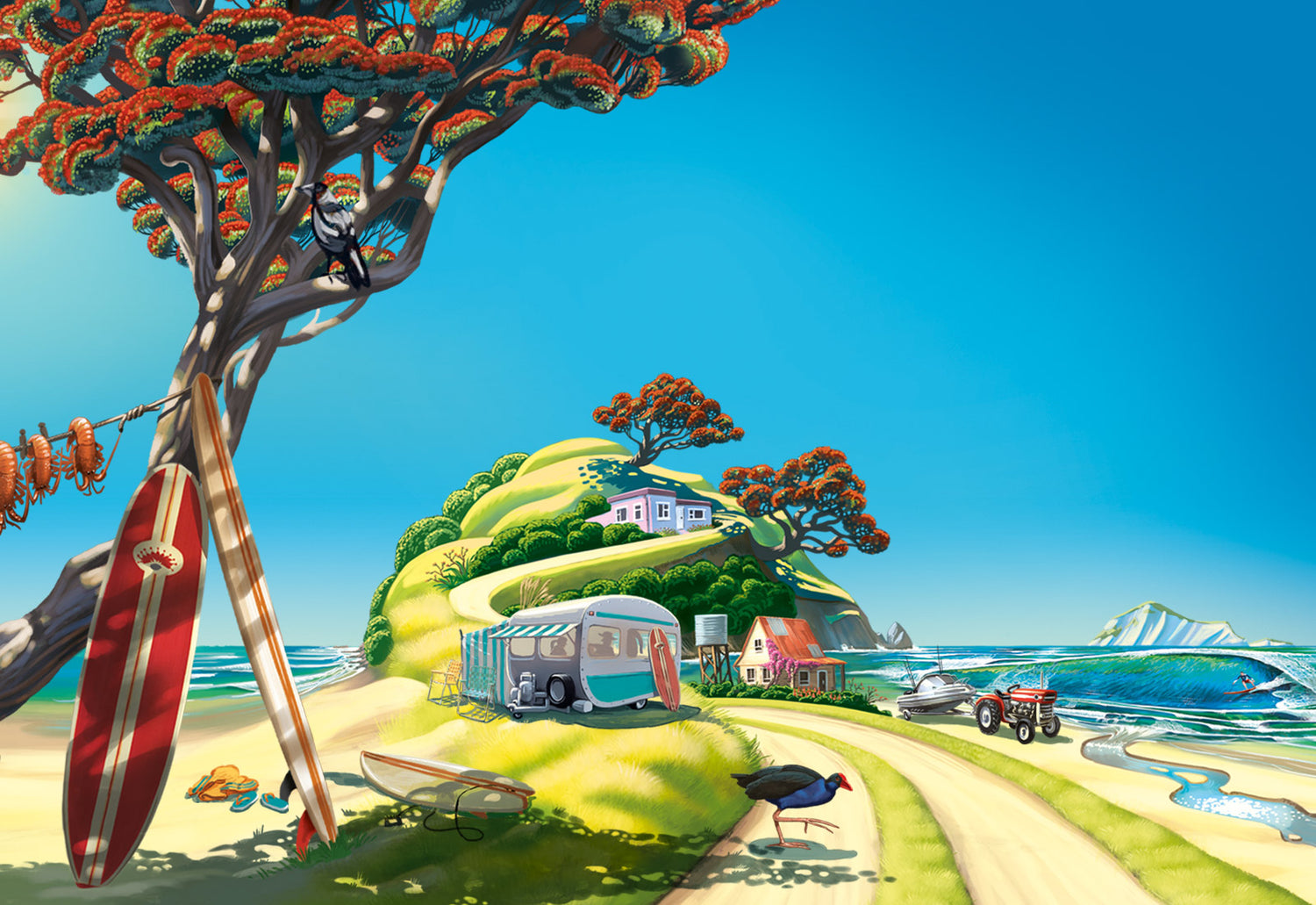 Is the beach scene an actual beach?
We say it's wherever you want it to be.  
It's actually made up of parts of my favourite coastlines and beaches; from the white sand of Coromandel, to the mighty Pohutukawa of Northland, the peninsula of Mahia, and Bare Island just off Waimarama beach in my treasured Hawke's Bay.  
Introducing the Hopster character
Our hop f**ked Hopster character featured on our labels was born into Bach in 2020 following a provocative catchup with a good mate and brand guru, Steve Bayliss. 
Bach Hopster is a reflection of ours and our drinkers spirit for living life to the full, a bit rebellious, a little bit cray-cray, having fun, laughing lots, and drinking damn good beer.